Our forest projects in Sierra Leone
Our forest projects in Sierra Leone
Climate change, which is causing billions in damage, is now a reality. With our forest projects in Sierra Leone / West Africa, we offer effective and cost-efficient climate protection solutions for responsible companies and committed private individuals. On a project area of more than 50,000 hectares, we plant a new rainforest and protect still existing -enclaves.
Why West Africa? Because the trees there grow much faster than any forest in Europe due to the tropical climate and store many times more harmful greenhouse gases due to their denser wood structure. We also have a lot of space that is lacking in Europe. Our projects help small farming families in one of the poorest countries in the world to earn a reliable income. A win-win for all. For generations.
You have the choice:
Reforestation or protection
You have the choice:
Reforestation or protection
Protecting existing rainforests is important, but it is not enough to address the global climate crisis. This additionally requires large-scale (re)afforestation. With our sustainable forest projects, you therefore have the choice between progressive and conservative climate protection.
For your own CO2 balance, this means that if you reforest, your emissions will be stored in the trees over the course of decades; if you protect, CO2 offsets immediately. In terms of price, the difference is small, from 10 € per tree or 9 € per ton.
Do you have further questions? Then contact us, we will be happy to advise you in detail!
Progressive climate protection
In the north of Sierra Leone, our new climate forest is growing. A mixed forest of native woody plants, where we place special emphasis on a wide variety of trees. This is important for pest control, but most importantly for returning wildlife. The trees not only produce oxygen, they are also a new habitat for monkeys, forest elephants, reptiles, birds and insects. Biodiversity is a supporting cornerstone of the entire project. And in the course of its life, each tree stores an average of 1.8 tons of CO2.
Sorie Dumbuya has witnessed how the formerly wooded hills have become increasingly bare, how the landscape has become steppe. That is why he is in the front row of planting in his village of Kakissy.
Managing Director Lars Bessel together with the two most important employees on site: Supervisor Anthony J. Turay (left) and Coordinator Saidu Sesay. Trusting cooperation at eye level.
Conservative climate protection
We save what can still be saved. In the rainforest enclaves managed by greenlimba, no more trees are cut down, there is no more prospecting for gold and diamonds, and there is no more hunting. Only burials are still allowed. Thousands of tons of CO2 are stored in the old trees and they should stay that way. Despite trustful cooperation with the local "forest committes", compliance with the contracts is regularly monitored by our own rangers and possible violations are immediately sanctioned. With success.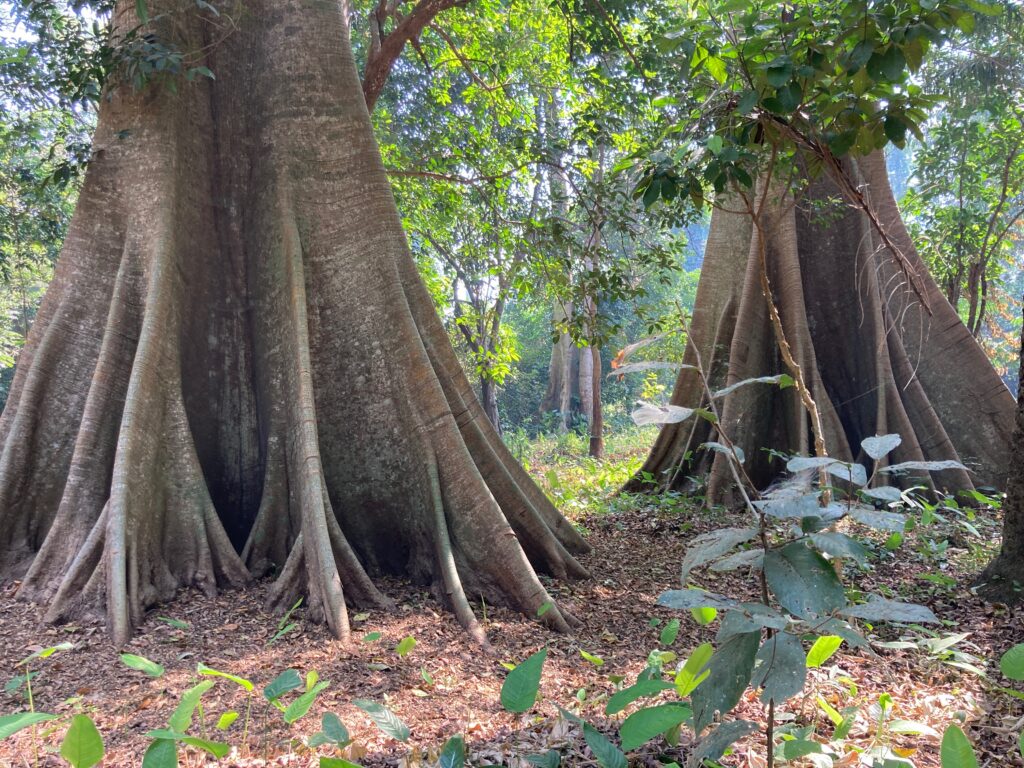 These two Cottontrees are many hundreds of years old and store many tons of climate-damaging carbon dioxide in their wood. To keep it that way, we pay the forest farmers a fair price every month.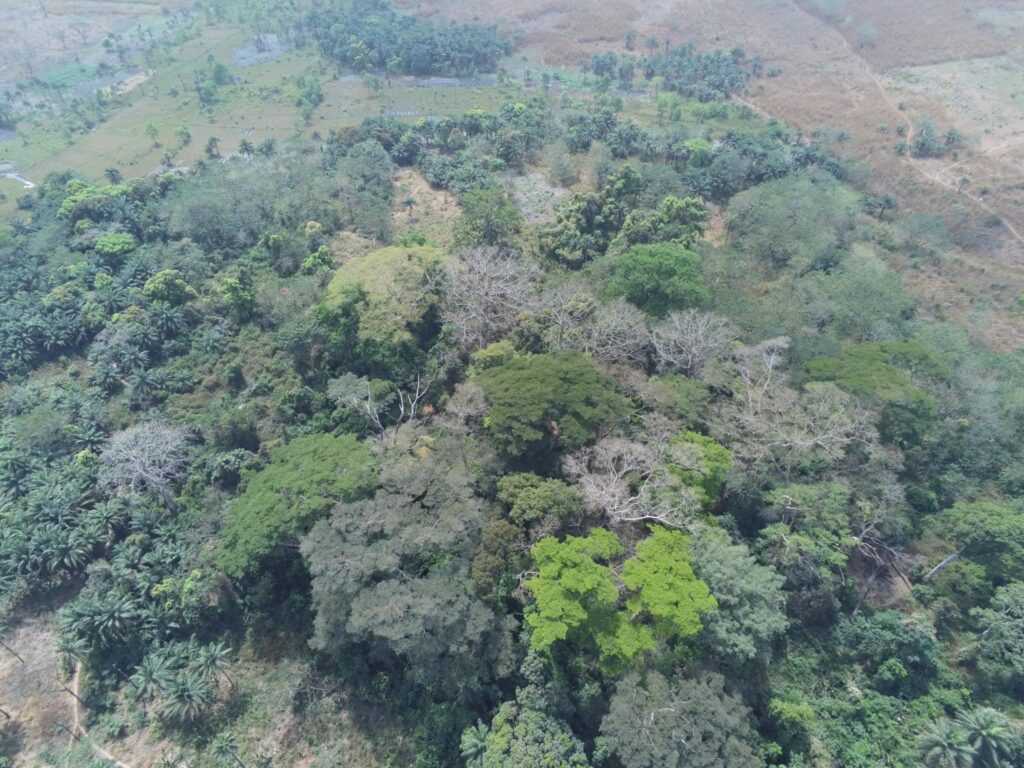 More than 5,000 tons of CO2 are stored in these 15 hectares of rainforest in the village of Kadingbilin alone. Over the years, we connect the individual forest areas to form a corridor all the way to Outamba-Kilimi National Park.
Reforestation and protection of a rainforest can only succeed with the people, not against them. The land managed by greenlimba remains the property of the smallholders, we transfer fair compensation payments to the villages on a monthly basis and employ local staff. In addition, there is environmental education and, last but not least, the planting of useful trees on 20% of the project areas. Cashews or tamarinds store less CO2, but they increase acceptance among the population through additional income. Sufficient expansion areas for the growing population as well as agricultural areas are left out of the forestation.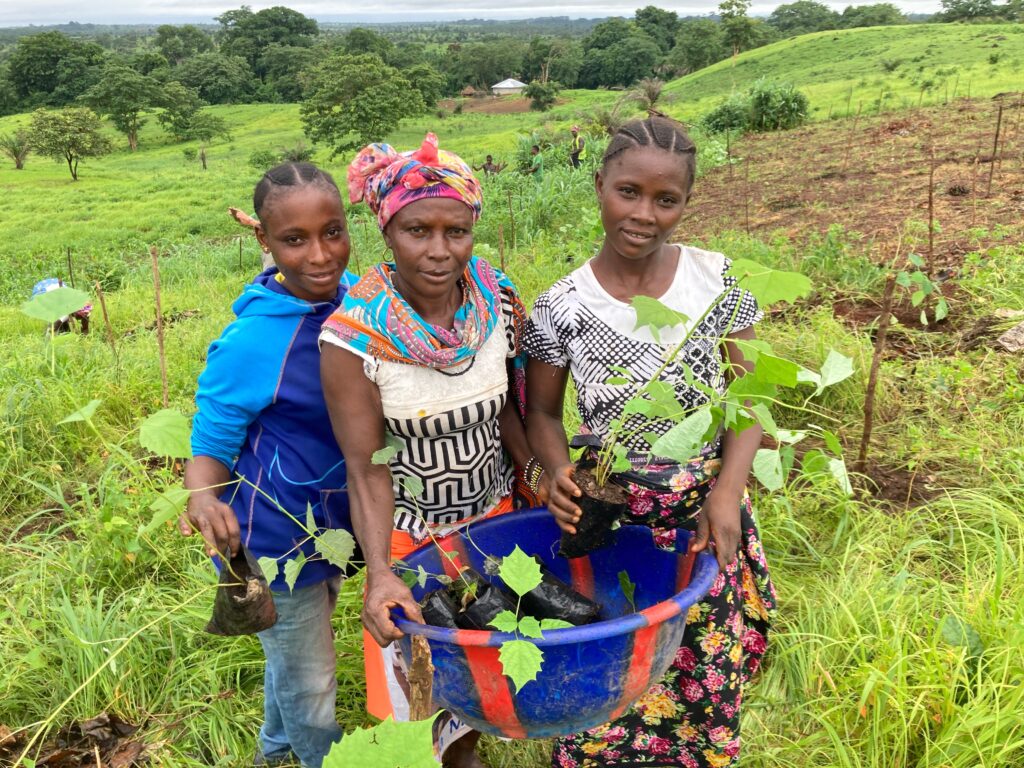 Our forests:
colorful and healthy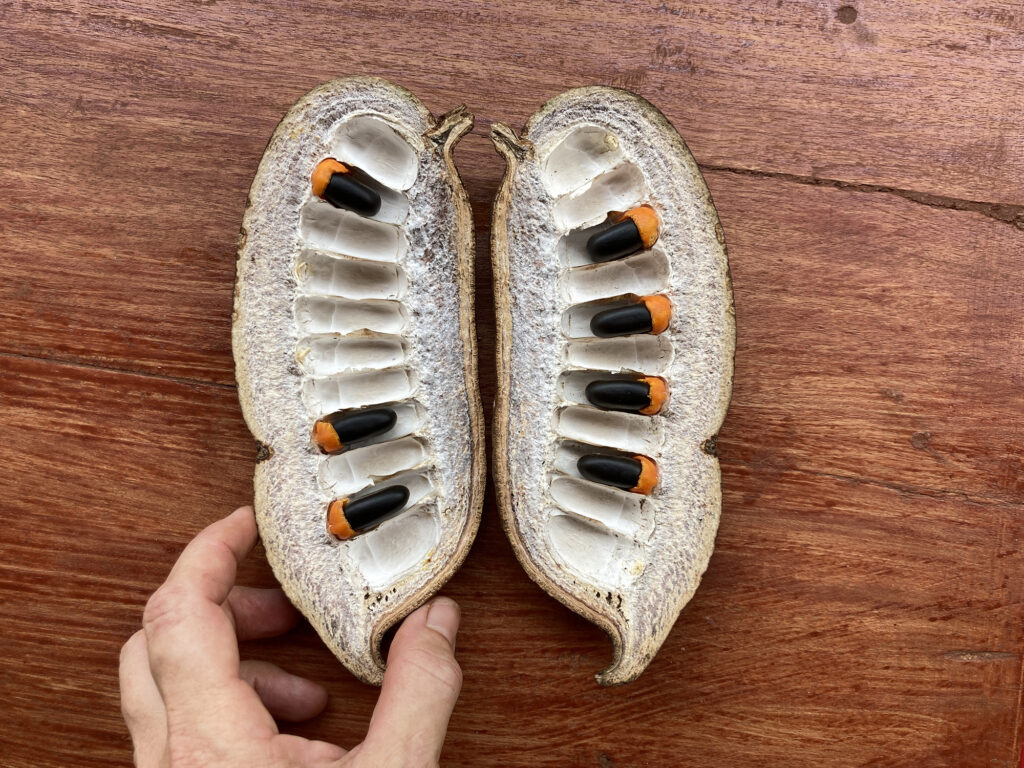 This is how exciting the safely stored seeds of the tree "Afzelia Africana" look, locally it is called "Contha" in the regional language of the Limba. It is just one of many local trees we plant in Sierra Leone. Our healthy mixed forests match the diversity of the nearby Outamba-Kilimi Nationlapark, manage without artificial fertilizers and chemical pesticides.
Dangers such as bush fires are also countered naturally, for example by "fire belts". Behind this is extensive risk management, which includes stock planting. Several universities scientifically settled our project.
greenlimba's project area covers about 50,000 hectares and is located in the remote Karene District in Northwest Province. It extends roughly from the district capital of Kamakwie northward to the Outamba-Kilimi and Kuru Hills National Parks.
Since 1961, the West African Republic of Sierra Leone has been a presidential democracy with a good 8 million inhabitants on an area roughly equal to that of Ireland. The capital with more than 1 million people is Freetown. Sierra Leone ranked 182nd (out of 189) in the United Nations Human Development Index in 2021, making it one of the poorest countries in the world. The official language is English, the climate is tropical-humid with temperatures between 25 and 40 degrees Celsius.
Sustainability – But How?
Sustainability – But How?
The greenlimba forest is sustainable in many ways
To create a healthy rainforest, a good mix of local trees have to be planted, a copy of the remaining rainforest. Monocultures are not planted.
Standards and cooperation
The project is regularly monitored by local and foreign observers. In addition, there are cooperations with universities.
We plant with local people, not against them. The land remains the property of the smallholders, greenlimba receives the right of use for 99 years.
Since local people need to make a living, two areas are always planted: a protective forest and a commercial forest for cultivation.
Education is needed for sustainable development. Only those who know why a tree is important for their own wellfare will be willing to protect it.

The managing directors are regularly in Sierra Leone to ensure the smooth running of the project and to make adjustments.
Standards and cooperation
Standards and cooperation
When we reforest and protect the West African rainforest in the Karene District, we do so in an extremely transparent manner:
The project is regularly monitored by both local and foreign observers. In addition, there are cooperations with various universities in Sierra Leone and Europe. Project progress is documented in periodic reports with photos, videos, and satellite imagery.
In summer 2022, we started planting on the first areas in Kasimbek and Kakissy, and in spring 2023, we started protecting the first rainforest enclaves in Kadingbilin. In the future, these individual forest areas will connect to form a "green ribbon" all the way to the nearby Outamba-Kilimi National Park. Preparations for this had already begun in spring 2021.
Our reforestation program is not in conflict with the rural population – we plant with the people, not against them. The new forests are "community forests"; they remain the property of small farmers. Local people also benefit from the new forests. On the one hand, money flows into the villages, and on the other, the new forest will improve the living conditions of the inhabitants by positively influencing the microclimate, raising the groundwater level, protecting against fires and erosion, and thus ensuring better harvests. Up to 20% of the new forest areas are also commercial forests with cashews, tamarinds and similar fruit-bearing trees.
Between the district capital Kamakwie and the border to Guinea, a mixed forest of native woods will be created in the coming years and decades, which not only quickly binds climate-damaging greenhouse gases, but also sustainably creates jobs in small farming villages, thus combating the causes of flight to Europe and providing a new home for wild animals such as monkeys, exotic birds and forest elephants.
Through its commitment, greenlimba thus fulfills goals 8, 13 and 15 on sustainable development of the UN Agenda 2030.